Patriot League notebook: Boston University tops Holy Cross for first place
How did the Terriers win the battle for first place with Holy Cross?
Boston University staked its claim on first place with a resounding victory over Holy Cross in the teams' first meeting this season. However, the clash of league leaders did not go as planned as one of the league's best defenses surrendered over 70 points for the first time since a 76-50 loss to Boston College on Nov. 13.
It was a topsy-turvy performance for the Crusaders. The visitors built a 12-point first-quarter lead before a switch in Terrier defenses stymied the Holy Cross offense. What defensive scheme slowed down the dynamic play of Avery LaBarbera?
The Terriers played short-handed, suiting up without forwards Riley Childs and Caitlin Weimar, and guards Emily Esposito and Annabelle Larnard. So which senior reserve stepped in to score a team-high 16 points to fuel the victory in her first start since her freshman year? We've got the answers so let's break it all down and examine the top takeaways from the Beantown showdown in this week's notebook:
Top five takeaways from Boston University's win over Holy Cross
The Terriers sit alone in first place after their 75-56 victory in the first of two key match-ups with Holy Cross. Boston was led by senior forward Chiara Tibbett, who scored 16 points, and Maren Durant, who added a double-double with 14 points and 12 rebounds. Avery LaBarbera led Holy Cross with 20 points.
In last season's COVID-altered divisional play, the teams met five times; the familiarity of the two programs gave the match-up a unique playoff atmosphere and, with first place at stake, an edgy feel. Nevertheless, the Terriers navigated those edges better than Holy Cross. Here are the top takeaways from Boston's stunning win:
Holy Cross was zoned out. When Boston shifted to a 2-3 zone late in the first quarter, it seemed like the first big chess piece was coming off the board for the Terriers. Holy Cross had forced them out of their man-to-man defense and their comfort zone by getting nearly any shot it wanted on offense and breaking out to a 19-7 lead. Everything was trending up for LaBarbera and company.
The Crusaders headed into the second quarter leading 19-9 and shooting 44.4% from the floor on 8-for-18 shooting. Then came a big dose of the Terriers' 2-3 zone and Holy Cross just zoned out.
They shot 3-for-15 from the floor in the second quarter versus a zone that was scrambling into place, make or miss. The Crusaders seemed caught off guard and were slow to make adjustments to exploit the gap in the high post area.
After a solid start in the opening frame, the visitors shot just 25.0% the rest of the way on 13-for-52 shooting against a mix of man-to-man and zone defense.
Chiara Tibbitt is the unexpected hero. A last-minute insertion into the starting line-up, the senior forward had a career day and was the key to cracking the Crusader defense.
Making her first start since her freshman season, Tibbitt scored a career-high 16 points on an efficient 7-for-9 shooting performance. She also added two three-pointers.
While the Crusaders were expecting 6'4 forward Caitlin Weimar roaming the paint and posting up, what they got was a stretch forward who could draw the Crusader bigs out of the lane and onto the perimeter, allowing more space for teammate Maren Durant to operate down low.
As it turns out, folks better guard her out there. Tibbitt's perimeter shooting turned the tide of the game.
Durant Durant. What an amazing game by Maren Durant. While Tibbitt's heroics made a splash, the work down low by the junior post was great all game. With little depth up front due to the absences of Weimar and Childs, Durant had to bring a physical presence and avoid foul trouble—something she's had an issue with throughout her career.
Not on this night.
Durant played disciplined and smart, blocking five shots and contesting nearly everything around the rim without fouling. She scored 14 points and grabbed 12 rebounds in 35 minutes of action. The offense found her often enough in the post and Durant did an excellent job of burying her post defender low (sometimes too low) and drawing the help defenders in a step or two.
Although Holy Cross executed the scouting report by sitting on her move over the left shoulder, Durant still found a way to get her shot. When she becomes more adept at going over her right shoulder, opposing defenses will be at her mercy.
You know how to whistle, don't you? There's not much focus on officiating unless there's a controversial call or monitor review that impacts a game. But when you're not noticing the crew, it means they are calling an excellent game.
When two of the top teams in the league play, it's the best game to officiate—but it doesn't mean it's easy. It's a big game for the players—and the officials, too. And the battle for first place between the Crusaders and Terriers was officiated well—tip of the cap to the crew of Ryan Nunes, Elizabeth Kuzmeski, and Kristi Vera.
Giannaros is a baller. Some players just look different out there. They have a way about them. You see the confidence, the way they work every angle and see all the options in a burst to the hoop or push down the court. LaBarbera is that player for Holy Cross and she has really elevated her play this season and her team with it. But for BU, the player with that 'it factor' is a freshman. It's Alex Giannaros.
Boston has a different confidence this season—and it's personified in the 5'5 freshman guard from Brockton. Against Holy Cross, she scored 16 points on 6-for-9 from the field, including 3-for-4 from beyond the arc. She also added five assists as the Terriers kept the ball moving well most of the game.
She got her pocket picked late in the game by the veteran, LaBarbera. It was a savvy steal from one of the league's best players and an opportunity to learn for the freshman. It was a swipe that said, 'game isn't over, so stay focused, stay consistent, or you're going to fall behind.' It's the kind of play you can envision Giannaros making when she's a senior—because, like LaBarbera, she's a baller, too.
Current Standings:
(League record, overall record)
Boston University (11-3, 15-10)
Holy Cross (10-4, 16-9)
Lehigh (9-4, 17-7)
American (9-4, 15-7)
Bucknell (9-5, 18-7)
Army (8-6, 13-10)
Lafayette (5-9, 9-15)
Navy (4-10, 7-17)
Colgate (3-11, 5-20)
Loyola (MD) (1-13, 4-20)
What's the can't-miss match-up of the week?
American University at Army
Saturday, February 19th @1:00p.m.
There's a lot at stake with playoff seeding for both these teams. American is rising at the right time and is eyeing a top-four finish and home court for the quarterfinals of playoffs. Army looks to solidify its top six position and avoid the first-round match-ups of the seven through ten seeds.
Army should be motivated after being embarrassed by the Eagles in Washington, D.C., in their first meeting. The Black Knights committed 27 turnovers and allowed 33 points in a decisive second quarter.
Alisa Fallon leads the Black Knights in scoring at 13.2 points per game and is coming off a 24-point effort against Colgate on Wednesday. Army leads the league in rebounding with 41.8 per game and will need to exploit its advantage on the boards against the Eagles, who are last in the league with just 30.9 caroms a game.
American is playing its best basketball of the season and riding a three-game winning streak, including victories over Bucknell and Boston University. The Eagles are led by Jade Edwards (12.9 ppg) and Taylor Brown (11.2 ppg).
Although American scored a season-high 80 points in its previous game against the Black Knights, fans can expect a more physical, low-scoring contest this time around. American's defense has been steadily improving and is giving up just 57.7 points per game, good for third in the league.
The last meeting: Jan. 19, 2022. The Eagles won 80-65. American shot a season-high 54.9% from the floor on the way to its highest-scoring game all year. Army committed 27 turnovers and couldn't find a way to slow down the Eagles' half-court motion offense.
Tune in to Patriot League action this week
(Note: All games are streamed through ESPN+ for a subscription fee. Click here for the video link to all league competition. All times are EST.)
February 16th
Lehigh-54 Bucknell-56
Holy Cross-56 Boston University-74
American-54 Navy-43
Lafayette-77 Loyola (MD)-61
Army-51 Colgate-38
February 19th
Navy at Holy Cross @12:00p.m.
American at Army @1:00p.m.
Colgate at Boston University @1:00p.m.
Bucknell at Lafayette @2:00p.m.
Loyola (MD) at Lehigh @2:00p.m.
Patriot League Player of the Week
Mackenzie Kramer, Lehigh, Sophomore Guard
The league's top three-point shooter went 9-for-17 from deep. Kramer is shooting 42.2% from three point range.
Kramer's six threes in Lehigh's 76-52 win over Lafayette marked the seventh time this season she's scored five or more threes in a game.
Shot 60.7% from the field on 17-for-28 shooting as Lehigh went 2-0 last week.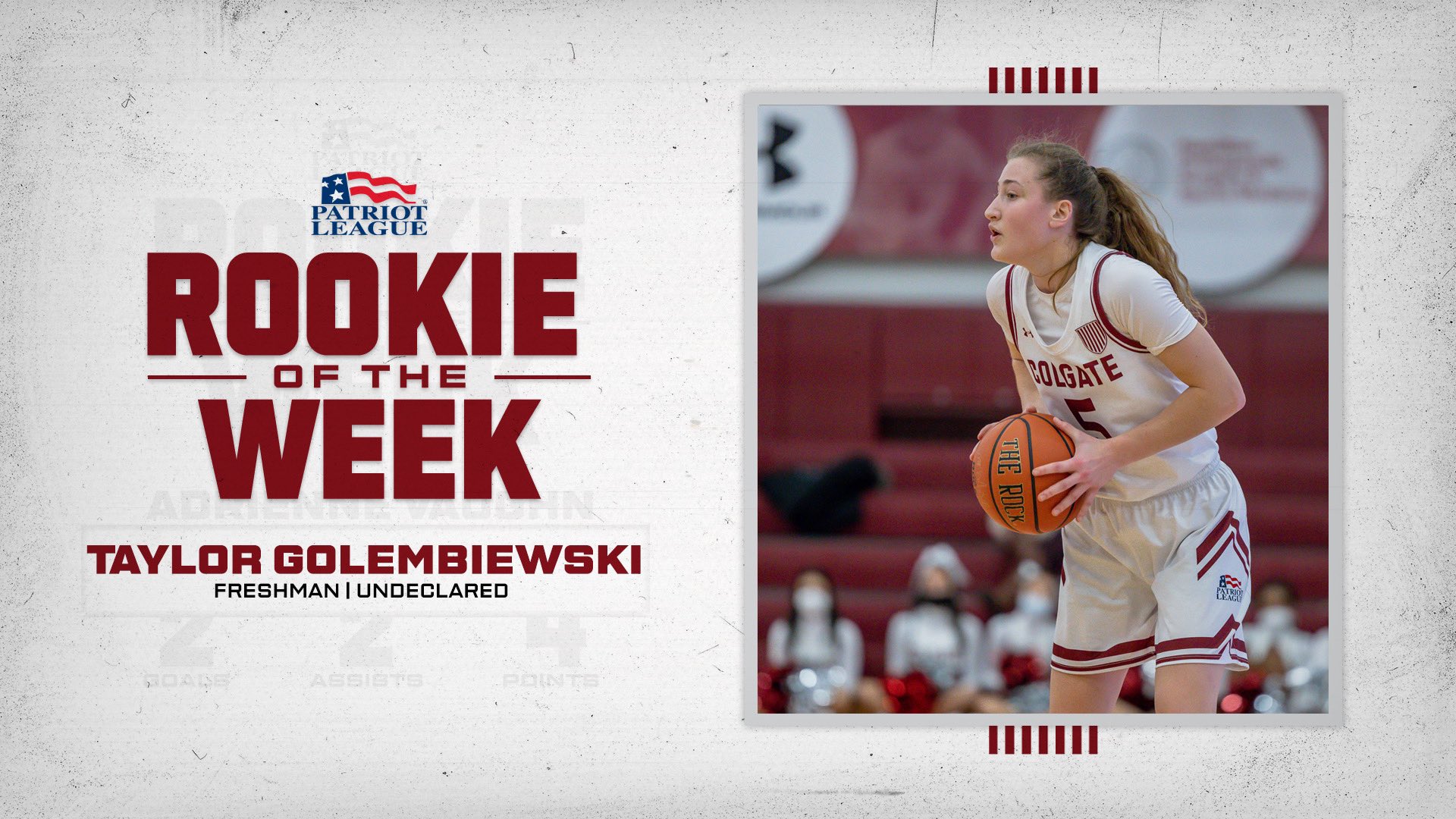 Patriot League Rookie of the Week
Taylor Golembiewski, Colgate, Freshman Guard
Played all 40 minutes in a 68-53 victory over Loyola (MD). Golembiewski went 7-for-12 from the field and added three triples to match a season-high 21 points.
Leads Colgate in scoring at 10.2 points per game and steals with 36.
Led her team in scoring in back-to-back games in a 1-1 week for the Raiders.
League news and notes
Senior guard Jade Edwards led American to a key 70-57 win over Boston University to help the Eagles to a 2-0 mark last week. She had 17 points and eight rebounds in the victory.
Freshman guard Claire Gallagher scored a career-high 21 points in Lafayette's 58-51 win over Navy.
Jennifer Coleman posted a 22-20 effort in Navy's loss to Lafayette. The senior guard's 20 rebounds was the first time a Mid accomplished the feat since Connie James in 1990. Her 22 points marked the 18th time this season she's scored at least 20 points in a game.
Loyola (MD) freshman post Lex Therien earned her 11th double-double of the season with a 23-point and 17-rebound effort in a loss to Colgate. The rebounding mark was a career-best for the New Jersey native.
Army hit a season-best 13 three-pointers in its 70-66 win over Navy.
Maren Durant has 118 career blocks for the Terriers—four more than her previous Boston University coach, Marisa Moseley, who had a stand-out career in Boston. Durant eclipsed her current coach, Melissa Graves, earlier this season. Graves recorded 97 blocks for Notre Dame from 2004-2008.
Bucknell's league-leading defense held the then first-place Holy Cross Crusaders scoreless for the first 5:42 of its game, jumping out to a 12-0 start. The Bison led wire-to-wire in the 66-49 road win at the Hart Center in Worcester.
Colgate is the best free throw shooting team in the conference. The Raiders lead the league with a 76.2% mark on 195-for-256 accuracy.