Patriot League notebook: Wordle edition
Who is moving up as we approach the halfway point in league play?
If you're racking your brain for a mystery five-letter word, you're not alone. And if you're at a loss for words after three buzzer-beating finishes this weekend in Patriot League play, we're here to help. Let's tour the league action and take a look at where things are headed with all the five-letter words you need. Here's the breakdown:
Colgate grabs its first league win behind freshman Sophia Diehl. How did they do it?
Bliss. That's the five-letter word to describe the emotion on the Colgate bench when the final buzzer sounded. The Raiders got a 49-47 breakthrough victory over Lafayette for first-year head coach Ganiyat Adeduntan, earning the program its first win in the league this season.
How'd they do it?
In the final seconds, sophomore forward Tiasia McMillan received a sideline inbounds pass at the high post, faked a hand-off to freshman Morgan McMahon and turned opposite the cut to dribble attack the rim for a lay-up with just 0.8 seconds remaining.
Freshman Sophia Diehl led the Raiders with 13 points (5-for 10 from the floor, 2-for-2 from three) and seven rebounds. McMillan added 7 points and 11 boards.
What does it mean moving forward?
It means confidence for Colgate's young core. The Raiders' three freshman starters—Diehl, Taylor Golembiewski and Morgan McMahon combined for 29 out of the team's 49 points. Over the last five games, the trio has accounted for 54.4% of the team's scoring.
It has been a tough start to the season as Colgate entered the game versus Lafayette on an 11-game losing streak, having lost three consecutive heartbreakers. Despite falling to Army and Navy by three points in each contest, and then to first-place Holy Cross by five on the road, it's a team with a glass-half-full vibe.
Expect more wins from Colgate moving forward and upsets ahead for opponents who think they can overlook the 3-16 Raiders. It's a team that's much better than its record suggests—and its young players are only just beginning to scratch the surface of what they can accomplish.
Lehigh finding its rhythm as point guard Clair Steele returns to form after injury
If Lehigh head coach Sue Troyan were running Wordle for a day, her secret word would probably be 'tempo.' The Mountain Hawks' offensive attack is all about pace, but although they've put up the top-scoring numbers in the league, the rhythm of the offense has been elusive at times, hurt by injury and absences.
Lehigh plays up-tempo and fires up a lot of threes—a league-leading 538 attempts, good for second in the nation among all NCAA teams. However, despite its scoring prowess, the offense has hit some empty stretches this season.
Are they going to be the team that scored 45 points at home against Bucknell or the one that put up a near-record 99 points versus Navy?
Its been a challenge at Lehigh to find a regular rotation and build stability in both its starting and bench roles due to the absences of point guard Clair Steele and last season's second-team All-Patriot League forward, Frannie Hottinger.
The two have played just one league game together this season, against Army on Jan. 5 when Steele returned to play from injury—a 62-55 win. Steele's first game back was Hottinger's last game played. The Mountain Hawks dropped two in a row after the junior's departure and her return date from an ankle injury is unknown.
A year ago, Troyan simplified the offense with a motion continuity and saw the team blossom among the starts and stops of COVID-19. The team still pushed and attacked, and took a lot of threes, but moved and shared the ball consistently in its motion offense.
Last season, the Mountain Hawks ran their half-court offense with much more pace and purpose, using both the full- and half-court to dictate the tempo to opponents and attacking the middle of the floor. This year, the squad has occasionally fallen into the trap of having its running game equal a rushed, quick shot, usually from three-point range.
The return of Steele is smoothing out those gaps. The senior didn't play in any games in December and finally returned to the starting lineup four games ago against rival Bucknell.
She's committed just four turnovers in that span of games while dishing out 5.5 assists per contest. Steele is a terrific facilitator and Lehigh is at its best when she commands the floor. Her return has steadied the offense. Can they keep it going?
After a stumble against the Bison in which Bucknell methodically slowed the pace, the Lehigh offense has rumbled back to life. Over the last three games, all wins, the team has shot a combined 50.0% from the floor. Steele's presence is a big reason why. She matched a season-high nine assists in a crucial, 79-67 win against Boston University over the weekend.
How does she do it?
Steele keeps the offense flowing. She is the motor on the court and pushes the ball expertly. The team shares the ball more with her on the floor and she helps everyone get touches and a feel for the offense. Last year, Lehigh made those touches—and ball and player movement–as important to its rhythm and pace on offense as how fast it could get the ball down the court. As a result, the team kept a better balance of attack inside and out.
While Steele pushes the pace brilliantly, she also knows how and when to subtly shift gears and get the offense to go through its paces in the half-court while keeping an attacking mindset; playing fast, but not in a rush.
Most importantly, Steele creates points in the paint through dribble penetration or an attacking pass, making the three-line an even more effective weapon. Four of her season-high nine assists against Boston University were for scores in the lane and both her baskets were converted in the box. The balance and efficiency are returning to the Lehigh offense.
The Mountain Hawks face Army and Holy Cross this week with the chance to fine-tune the offense and move up in the standings. If junior forward Frannie Hottinger can return from an ankle injury for the stretch run, Lehigh coach Troyan might have to reach for another five-letter word: champ.
Avery LaBarbera leads Holy Cross to a dramatic 63-62 overtime win over Bucknell
"Avery" is the five-letter word you need when you're talking about one of the best players in the league right now. LaBarbera posted her ninth straight double-double in shocking victory for Holy Cross. How did it happen?
Bucknell senior guard Marly Walls missed a floater in the lane as the buzzer sounded in overtime, giving the Crusaders their first win at Bucknell since 2015. LaBarbera had another dominating performance with 30 points and 11 rebounds and her team's defense stood up against a late Bison push. What does it mean?
Holy Cross earned a tie for first place in the league with the victory and established itself as a clear contender as conference play approaches its mid-point. The road win means the Crusaders have an early edge with wins over both Lehigh and Bucknell–and are now tied with Boston University at 6-1.
The Crusaders have had a defensive mindset all season, but it was their shooting efficiency from behind the arc that caught the Bison off guard and was the difference in the game. The combination of LaBarbera (5-for-8) and Cara McCormack (3-for-5) led an 8-for-15 effort from the three-point range.
The two guards were the only players to score for the Crusaders in the tension-filled overtime period and McCormack's early three in the frame in response to an opening Bison bucket was a vital emotional turn.
LaBarbera's jumper with 24 seconds remaining gave her team a 63-62 lead for the final margin.
Second-year head coach Maureen Magarity has her squad outpacing early-season projections and playing some of the most consistent defense in the league. If the offense around LaBarbera can find that same dependability, the Crusaders are going to evolve from a contender to a favorite.
Looking down the road a bit to the end of February, the win sets up a dramatic two-week stretch for Holy Cross to finish league play. It includes two games against Boston University. The Crusaders host the Terriers in Worcester on the final day of the regular season.
Navy secures last-second win over Army
In the waning seconds of a rivalry game, the most appropriate five-letter word in Alumni Hall was "swish." Navy's Lindsay Llewellyn hit a short-corner jumper off a deflected pass from teammate Jennifer Coleman with four seconds left to defeat Army, 61-60.
The dramatic finish capped a fourth-quarter with five lead changes and margins of just three points on each side. Navy walked away with bragging rights between the service academies, but what does the win mean moving forward?
In Annapolis, it's a victory that keeps alive the possibility of a regular-season finish in the top half of the league. Coleman had a dominating stretch in the third quarter, scoring 12 straight points for Navy and she continues to carry her group.
The duo of Coleman and Sydne Watts combined to score 38 points and each played the entire 40 minutes. Can they keep it up as we approach the halfway point in the season? Both Coleman and Watts have played 40 minutes in three out of the last four games; Coleman has hit the 40-minute mark six times this season.
If head coach Tim Taylor can navigate his group's lack of depth successfully, Navy will continue to challenge for a top 5 spot. Next up for the Mids is a rematch with Bucknell. Round one went to Navy in an upset in Lewisburg.
Although Army now has the same number of league wins as the Mids, the loss hits the Black Knights a bit differently. They have lost three of four and next face a Lehigh team that just put 99 points on Navy last week.
The good news for Army? The play of Sabria Hunter continues to shine in the paint. She posted a double-double with 16 points and 11 rebounds—her ninth of the season.
Current Standings:
(League record, overall record)
Holy Cross (6-1, 12-6)
Boston University (6-1, 10-8)
Lehigh (5-2, 13-5)
American (4-2, 11-5)
Bucknell (4-3, 13-5)
Lafayette (3-3, 7-9)
Army (3-4, 8-8)
Navy (3-5, 6-12)
Colgate (1-7, 3-16)
Loyola (MD) (0-7, 3-14)
What's the can't-miss match-up of the week?
Holy Cross at Lehigh
Saturday, January 29th @2:00p.m.
A rematch of an earlier win for Holy Cross. It's a huge opportunity for the Crusaders to grab a sweep of the Mountain Hawks. And seize vital ground as teams begin to think about what the playoff seeding picture might look like.
Lehigh struggled to contain Avery in its first meeting but there's a lot of that going around lately. The senior point guard has been a force for the surging Crusaders. She's scoring 15.6 points and hauling in 9.6 rebounds per game.
The Mountain Hawks appear to have found their groove on the offense and are averaging 73.8 points per outing while taking 27.1 threes. Will the defensive-minded Crusaders be tempted to run with Lehigh on its home court?
The three-point shooting will certainly get a lot of attention, but the victor likely wins the battle of points in the paint. Keep your eye on Lehigh forward, Emma Grothaus.
The last meeting: Jan. 8, 2022. The Crusaders won, 64-53, in Worcester. The Holy Cross defense stifled a Lehigh team that had not been held below 60 points all season. Lehigh had a season-low eight assists. The Mountain Hawks average 16.7 assists per game and lead the league in scoring. Holy Cross capitalized on a lethargic effort from the defending champions with a stellar defensive focus, limiting the visitors to just 6-for-25 from behind the arc. Holy Cross was led by a monster effort from LaBarbera who scored 30 points and grabbed 17 rebounds.
Tune in to Patriot League action this week
(Note: All games are streamed through ESPN+ for a subscription fee. Click here for the video link to all league competition. All times are EST.)
January 26th
American at Holy Cross @5:00p.m.
Lafayette at Boston University @6:00p.m.
Lehigh at Army @6:00p.m.
Colgate at Loyola (MD) @7:00p.m.
Bucknell at Navy @7:00p.m.
January 29th
Navy at American @2:00p.m.
Boston University at Colgate @2:00p.m.
Holy Cross at Lehigh @2:00p.m.
Bucknell at Loyola (MD) @3:00p.m.
Lafayette at Army @4:00p.m.
Patriot League Player of the Week
Avery LaBarbera, Holy Cross, Senior Guard
In a 3-0 week for the first-place Crusaders, LaBarbera posted three double-doubles and now has nine consecutive.
Matched a career-high 30 points in a 63-62 overtime win over Bucknell, the Crusaders' first win in Lewisburg since 2015. LaBarbera added 11 rebounds. She's fourth in the league in rebounding, grabbing 9.6 per game.
LaBarbera leads Holy Cross in scoring, rebounding, assists, steals, minutes, free throw shooting and has the most three-pointers made (35).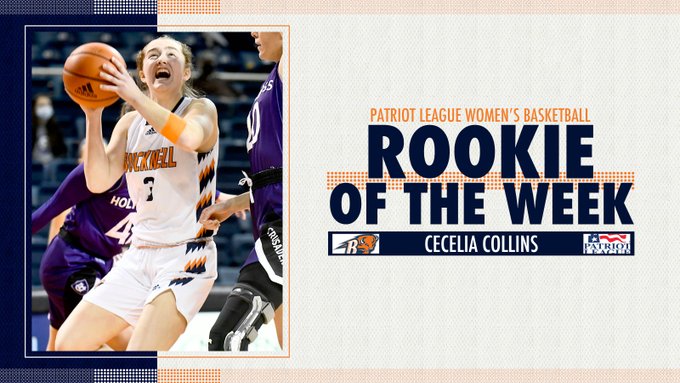 Patriot League Rookie of the Week
Cecelia Collins, Bucknell, Freshman Guard
It's the fourth time this season that the Scranton Prep product has claimed Rookie of the Week and the second consecutive honor.
Scored 14 points, grabbed six rebounds, and added seven assists in a 61-41 road win over Colgate.
Collins played 42 minutes in a 63-62 overtime loss to Holy Cross. She's playing 33.1 minutes per game this season—good for second on the team. She's started all 18 games for the Bison.
League news and notes
Lehigh scored 99 points in a 99-65 victory over Navy. It's the second-most points scored in program history. The record was set in Feb. 3, 1977 against Albright College.
Colgate travels to Loyola (MD) this week. The Raiders have a five-game winning streak against the Greyhounds. They last faced each other on Feb. 15, 2020. Lex Therien (11.5 ppg) and Taleah Dixon (10.5 ppg) lead Loyola (MD).
Jennifer Coleman is making her case for Player of the Year. The Navy star averaged 24.0 points and 10.5 rebounds in a 1-1 week for the Mids. Coleman leads the league in both scoring and rebounding, and is second in assists.
Holy Cross will look to avenge its only loss in conference play when it hosts American University on Wednesday. The Crusaders had their worst shooting performance on the season in a 52-39 loss to the Eagles in D.C. on Jan. 12. The team shot 18-for-56 for 28.6% from the floor, including a 1-for-19 effort from behind the arc—both season lows.
Colgate freshman Morgan McMahon is the leading free throw shooter among her team's starting unit. She's 32-for-38 on the season for 84.2%. Colgate is third in the league as a team, shooting 74.5% from the line.
Bucknell senior Taylor O'Brien is also a member of the Track and Field team. She owns the program's record for the outdoor high jump (5-7 ¼) and was named second team All-Patriot League in 2019.
Lafayette freshman Claire Gallagher is scoring 7.5 points per game and shooting 42.2% from three-point range (19-for-45). Her mom, Emily (Wagner) Gallagher, played for Stanford. Her 1988-89 team went 28-3 and finished fourth in the AP poll.
Todd Goclowski currently covers the Patriot League for The Next. Goclowski brings 25 years of coaching experience to his role as an analyst and writer, including 19 years of coaching women's basketball in the NCAA at the D1 and D3 levels.