Pac-12 Notebook: Feb. 14, 2022
Sights and sounds, games to watch
Washington St. sweeps the LA schools, while the Arizona and Oregon schools face off in their local rivalries in the Pac-12 this week.
Current Standings
In order of Conference Record (Conference Record, Overall Record)
No. 2 Stanford (12-0, 21-3)
Oregon (9-4, 16-8)
No. 8 Arizona (8-4, 18-4)
Washington State (8-5, 16-8)
Utah (6-5, 15-8)
UCLA (6-6, 11-8)
Arizona State (4-4, 12-9)
Oregon State (5-6, 12-9)
Colorado (5-7, 16-7)
USC (3-10, 10-13)
Cal (1-6, 10-8)
Washington (0-10, 5-13)
Spotlight — Games of the Week
(not necessarily the best games of the week, but ones the author wanted to spotlight)
Feb. 11: Washington St. 66 – UCLA 65
After an 83-30 shellacking at the hands of Oregon on Feb. 9, Wazzu was in big need of a bounceback and they got it in a 66-65 thrilling victory over UCLA. With 2020-21 All-Pac-12 honoree Charlisse Leger-Walker in foul trouble and struggling to find a rhythm, it was her older sister Krystal Leger-Walker leading the way for the Cougars with 22 points, five rebounds, and five assists. And at the end of a back-and-forth fourth quarter, with 1.7 seconds left, it was Krystal who fought for the offensive rebound and muscled it back in for the go-ahead three-point-play.
4th, 0:01 | AND-1!!!! @KlegerWalker some how gets the rebound amongst the trees in the post and she gets the shot to fall and gets the foul!!!

🐾 65 🐻 65

Watch: https://t.co/oGcG8BQbHc#GoCougs | #BackHome pic.twitter.com/WnGIhNg523

— WSU Cougar Women's 🏀 (@WSUCougarWBB) February 12, 2022
The momentum from the win carried over into Sunday, where the Cougars defeated USC 57-54 and secured a fourth-place spot in the conference with two weeks to go.
Feb. 11: Arizona St. 81, #8 Arizona 77
The weekend's T-Cup series brought us two epic contests that went down to the wire, with the schools splitting the series. The first matchup was an upset victory for the Sun Devils, led by senior guard Jade Loville (27 points, eight rebounds). After a tight start, ASU took the lead early in the second quarter and pushed it to 14-points with 6 minutes left in the third. But Arizona slowly whittled away at the lead and with 8 minutes left in the fourth, embarked on a 13-5 run, capped by a Cate Reese [3] that gave them a 71-70 lead.
4Q | BACK & BETTER ‼️
🅰️ | 71
😈 | 70
📺 | https://t.co/rUox6ikPLb#MadeForIt pic.twitter.com/mMgnVg9UnS

— Arizona Women's Basketball (@ArizonaWBB) February 12, 2022
Down the stretch, a controversial series of fouls led to 6 straight FTs for Arizona St., giving them a 3-point lead they would never relinquish. First, a foul on Shaina Pellington while seemingly just standing in front of Loville led to two free throws:
Then, a loose ball foul on Reese led to two more FTs, and the call frustrated guard Helena Pueyo to the point she spiked the ball emphatically, earning a technical foul and two additional FTs for ASU.
The Sun Devils played supremely well and earned their victory. But it was disappointing to see such a great game marred by many FTs and long reviews. A change in NCAA WBB to one FT shot for a technical foul like it is in the WNBA is long overdue.
Pac-12 Player of the Week
Jordyn Jenkins, USC, Sophomore Foward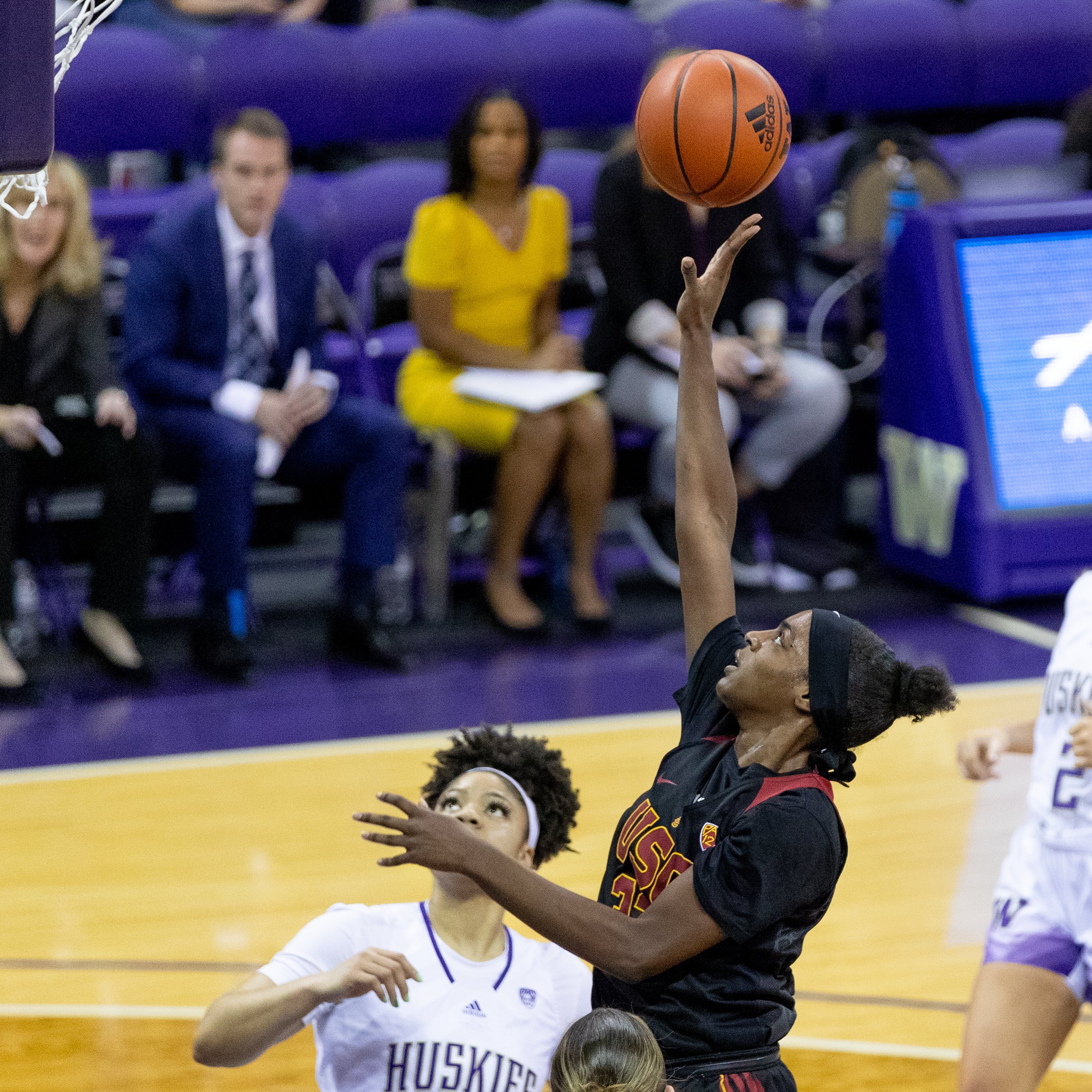 Jordyn Jenkins has arrived. After an up-and-down start to the season, the five-star forward from Kent, Washington has had a breakout in February. This week Jenkins averaged 22.7 points and 10.6 rebounds per game in three games, including a career-high 29 points and 15 rebounds against her hometown Washington Huskies.
USC is still finding its way under first-year coach Lindsay Gottlieb. But the emerging Jenkins gives the team a foundational piece to build on.
Honorable Mentions: Charisma Osborne, UCLA (22.5 points, 3.5 assists, 2.0 steals per game); Cate Reese, Arizona (18.0 points, 7.3 rebounds per game); Mael Gilles, Arizona State (17 points, 7.5 rebounds, 3.0 assists per game)
Upcoming Games to Watch
2/18, Arizona St. @ Washington State: These teams have some good momentum coming off last week. Arizona St. upset both Oregon and Arizona, and Washington State just swept the LA schools. This is a crucial game for each team's NCAA Tournament hopes, as both ASU and WSU are on the bubble in ESPN's latest bracket projections.
2/20, #2 Stanford @ Oregon: After an undefeated January, including wins over Arizona and UConn, it felt like Oregon was back to being Oregon. February has been bumpier, however, with the Ducks going 3-3 and falling out of the top 25. This marquee match-up on ESPN would go a long way to reestablish Oregon's top team footing. Meanwhile, Stanford is Stanford, having won 13 straight, looking every bit like the class of the Pac-12, and a strong contender to repeat as national champions.